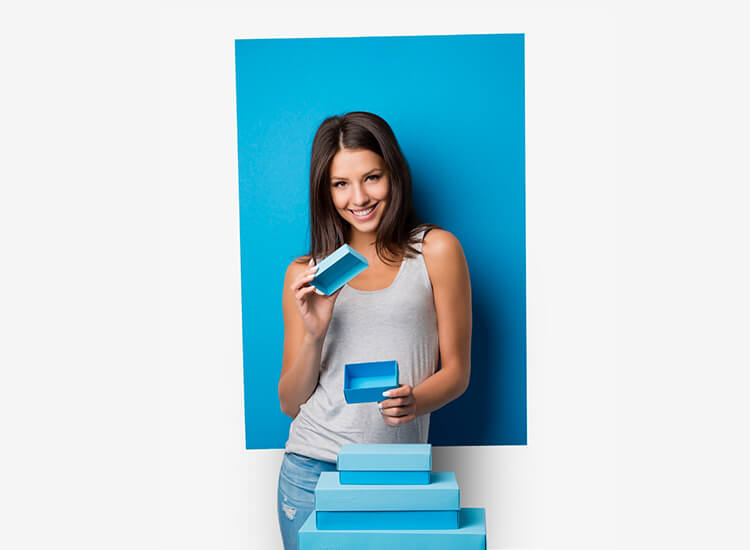 Customization of gift boxes
Our Buntbox team is also more than happy to assist you with any kind of personalizations. We will inform you about all the customization options available and offer you many ideas for your next gift box. Take a look at our range online and get inspired. Do you have any questions? Feel free to contact us, we will be happy to help you out.
Trick or treat!
The Halloween box offers space for many great gifts. For example, your Halloween box could contain the following: - Sweets - Skeletons - Hand - Spiders - Wiggly eyes - Slime - Paper crafts The list goes on and on, because Halloween calls for imagination. This also applies to the design of the gift boxes.
You decide on the design of the box
With the self-designed Halloween box, you ensure a fearsome bang. Fear is the order of the day, because no one can compete with your packaging. Once you have decided on the right model, you decide on the colour of the box. It doesn't always have to be black. Other colours, such as bloody red, also go down well on Halloween. But you are still not finished with the design possibilities. Now you can even add your favourite motif to the boxes. And of course, if you want a scary saying, that's also possible. Creepiness is expressly permitted here. The price, on the other hand, is not scary at all, because you get the best quality that is affordable. Thanks to our configurator, you can immediately see how your boxes will look in the end. So you buy from us without any risk. The Halloween gift box is in the starting blocks and the paper used is completely recycled.
Environmental protection at its best
Why use new paper when a recycled box is just as robust? At Buntbox, we think about the environment and you are also making a valuable contribution with your order. The cardboard boxes we use are made from 100% recycled material. In addition, we manufacture our boxes exclusively in Germany. The "Made in Germany" seal of quality is part of our programme, which means that you can also enjoy fast delivery times. In addition, the boxes can be folded easily. This means that the Halloween gift boxes take up little space. If you are looking for a great gift box for Halloween, then you have come to the right place.
A great gift for the commercial sector
Halloween is not only celebrated in the private sector, but you can also present your customers or business partners with a scary gift. Of course, the best way is in our great Halloween box. You can print the slogan or logo of your company on it and complete it with a spooky motif. Even bloodstained lettering will go down well on the Halloween box. Add a few gruesome presents to the box and your customers and business partners will be wide-eyed. You don't see gift boxes like this every day and they will be remembered. Exactly the effect that should be achieved with promotional gifts. If you are planning a private party on Halloween, then you should also use our gift boxes. The Halloween gift box is definitely a spooky companion for this unusual celebration.