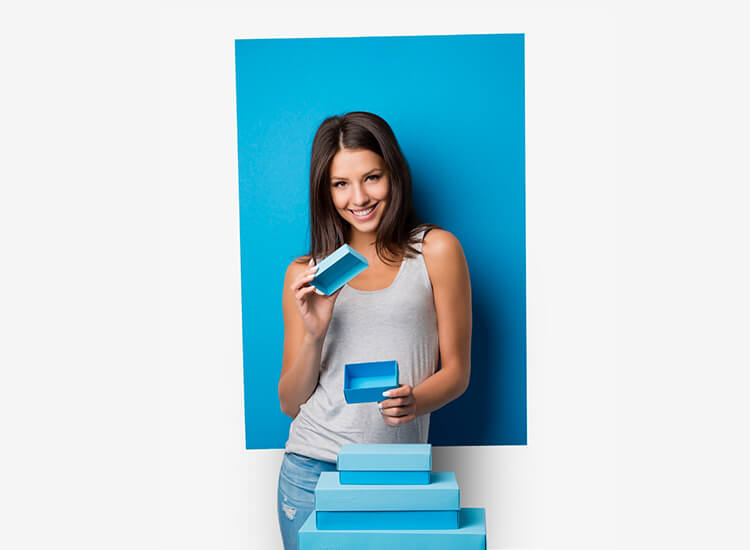 Customization of gift boxes
Our Buntbox team is also more than happy to assist you with any kind of personalizations. We will inform you about all the customization options available and offer you many ideas for your next gift box. Take a look at our range online and get inspired. Do you have any questions? Feel free to contact us, we will be happy to help you out.
The best mother in the world will be happy!
You'll soon realise that the gift box will bring great joy to your mother. It has a high-quality finish and offers all kinds of gifts enough space and, above all, protection. There are even models with handles that are reminiscent of a chic shopping bag and are therefore particularly trendy. The box is the perfect way to present almost any gift. From birth to adulthood, mum is always the most important caregiver. You can honour this achievement with a small gift. The Mother's Day box offers you many design options and you are also free to choose the basic colour.
What should the Mother's Day gift box look like?
You can design the Mother's Day box yourself and specify all the important components. This way, the box can be tailored exactly to your mum's needs. Which colour does your mum like? Which shape is exactly to her taste? What kind of print will make her happy? There really are countless possibilities and so it's no wonder that the Mother's Day gift box becomes an absolute highlight. Rarely has a Mother's Day gift been more attractively packaged. For the imprint, you can choose a personal saying or immortalise a photo. If you need the Mother's Day gift box for commercial purposes, you can decorate it with loving hearts and place a product of your choice inside. The Mother's Day Gift Box will put you in a good mood and the second Sunday in May can come. Why rely on impersonal packaging when our gift box is so easy to design?
How to protect the environment
Unfortunately, a lot of fancy packaging is made of plastic and that harms the environment. Our Mother's Day gift box shows that there is another way. It is made of recycled cardboard and is therefore particularly environmentally friendly. In addition, the boxes can be folded, which is why they take up little space during transport. Because they are made in Germany, long supply chains are eliminated and delivery times are shortened. All in all, with the Mother's Day gift box you are choosing a product that combines great design with high quality and sustainable production.
Which gifts would you like?
You may still be wondering which gifts you could wrap with the Mother's Day gift box? The classics in particular go down well with all mothers. These include chocolates or jewellery, for example. You can even transport flowers in the open Mother's Day gift box and give them to your mum. Vouchers also get a personal touch with the Mother's Day gift box. Show your mother how much you love her and show your creativity with the boxes from Buntbox. Why not go for a special kind of packaging? The mothers of this world deserve something special and with the Mother's Day gift box you prove that impressively.