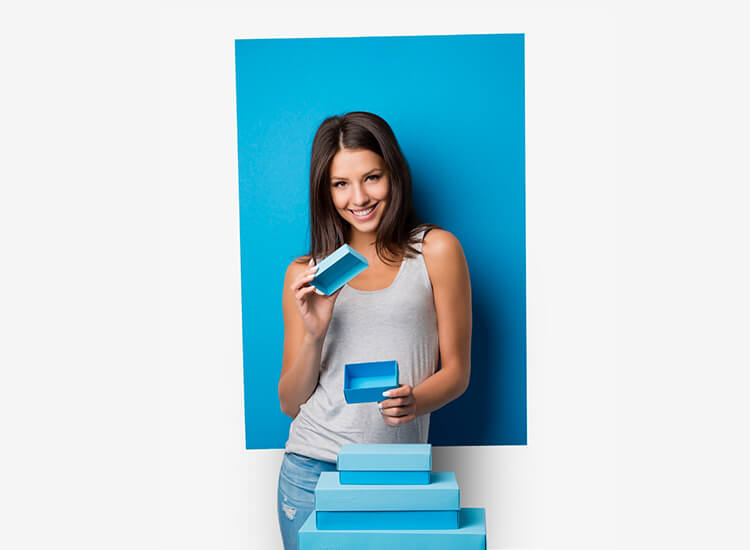 Customization of gift boxes
Our Buntbox team is also more than happy to assist you with any kind of personalizations. We will inform you about all the customization options available and offer you many ideas for your next gift box. Take a look at our range online and get inspired. Do you have any questions? Feel free to contact us, we will be happy to help you out.
For what occasion is promotional packaging suitable?
If you have a special event coming up, our promotional packaging could be your first choice. It is particularly suitable for: - Company celebrations - Company anniversaries - Employee awards - Trade fairs - Customer visits - Meetings with business partners Especially for company celebrations, you should not do without promo packaging from Buntbox. Not only employees and business partners are guests, but certainly also valued customers do not want to miss this event. The role of promotional items should not be underestimated. These small attentions are usually only a small burden on the company budget, but they achieve a great effect. The guests feel valued and therefore comfortable. Our box is the ideal promotional packaging for your company's gift. It can even be customised.
Every promo box looks different
We don't offer you a one-size-fits-all package, rather every customer receives their very own promo box. The design is determined by you. You decide on a basic colour and can then start with the design. Do you want a certain slogan to adorn the promotional packaging? You can immortalise your company's slogan or simply add a funny saying. Certain motifs could also give the promotional packaging an individual look. Maybe you decide to use photos? Everything is possible, because your product will always be attractively presented through the self-designed promotional packaging.
Of the best quality and even sustainable
A promo box represents the company. For this reason alone, you should not compromise on the quality of the box. Our promotional box is very sturdy and the bright colours are also of the best quality. You can store all kinds of products in it and at the same time do your bit for the environment. The gift is presented in a promo box made from recycled cardboard and manufactured in Germany. Customers and business partners with high standards will certainly appreciate the high quality of the box.
The promotional box is suitable for many gifts
If you want to do promotions, the promotional packaging plays an important role. The product of your company is optimally represented by the promotional packaging. But which gift do you want to give? The type of promo can be varied. Of course, the classic give-aways are still in demand. These include lighters, key rings or ballpoint pens. In the meantime, however, some companies are opting for more exclusive gifts. This gift is guaranteed to be in good hands in the Promotion Box. What about high-quality perfumes, exclusive sweets or hearty treats? The box from Buntbox is always unique – just like your company!
This promotional packaging will be remembered
A company's promotional product must fulfil an important task: It should be remembered. This is the only way the company in question will be remembered, and that is what matters. A distinctive promotional packaging lays the foundation for the success of the gift. We at Buntbox provide you with this promotional box. You decide on the design and you will be happy about the enthusiastic reactions.