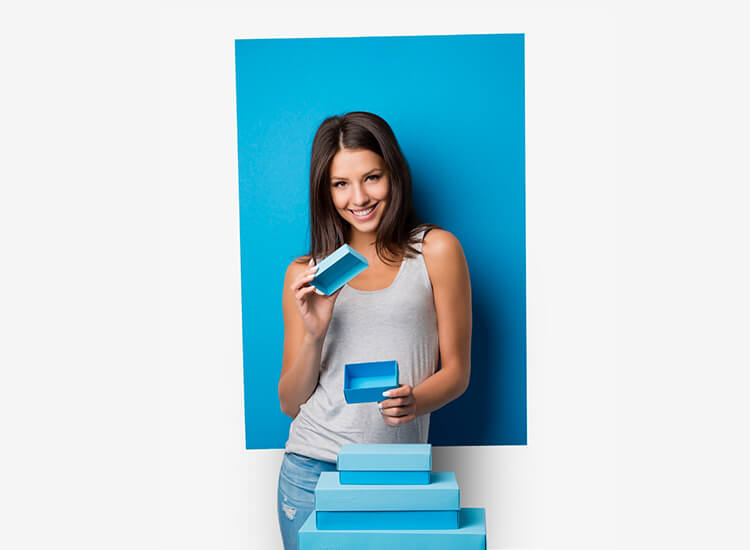 Customization of gift boxes
Our Buntbox team is also more than happy to assist you with any kind of personalizations. We will inform you about all the customization options available and offer you many ideas for your next gift box. Take a look at our range online and get inspired. Do you have any questions? Feel free to contact us, we will be happy to help you out.
The perfect gift idea for Valentine's Day
The tradition of giving each other a little treat on Valentine's Day has existed since the 15th century. It is less about giving expensive and exclusive gifts, but about thinking of the other person on this day and surprising them with a little something. Popular gifts include chocolates or a Valentine's Day candy box, jewellery for both of you, such as a heart on a necklace or a shared ring, flowers, poems and love letters. You can write down your very personal thoughts and present them in a decorative envelope. BUNTBOX offers the Valentine's Day box in envelope format in several sizes and colours. The letter and a small gift fit inside. A box with lettering or a heart is very nice. Personalise your Valentine's Day box and use the surface for your own design. The best thing about Valentine's Day is that it can be kitschy. The more colourful and eye-catching the Valentine's Day gift box, the bigger the smile on the recipient's face.
Choose a Valentine's Day gift box with a heart
It's a well-known fact that gifts keep love alive. This motto also applies to 14 February. It's easy to make your own Valentine's Day box. If you are not so artistic, you can find the right ideas and templates at BUNTBOX. Not only couples use the day for mutual attention, but also the secretly in love can reveal their feelings on Valentine's Day. Some prefer to order a Valentine's Day box and then present it anonymously, others want to show how they feel on this day. Not too pushy is always a Valentine's Day candy box. If you meet the taste, you are already sure of the other person's sympathy. At BUNTBOX you will find noble variations that are both decorative and general or to which you can add a personal touch.
Valentine's Day candy box
Love changes people and gives them wings. Life seems light and harmonious and the smile comes automatically. On Valentine's Day it is possible to give a very personal message. Many people send their greetings with beautiful flowers or with sweets in a noble format. Some use the day to start a relationship or to get engaged. Many want to thank their partner on Valentine's Day. Even a small romantic gift is enough to make the other person feel that they are loved. Chocolates conquer the heart and are a perfect gesture in combination with flowers.
Order a Valentine's Day box - online from the BUNTBOX
You can make your own Valentine's Day box or order a ready-made Valentine's Day gift box. At BUNTBOX you can get a template for making your own box or beautiful models with hearts, flowers, kissing mouths or exclusive lettering. You can have the box customised or choose an envelope, bag, envelope and gift box for Valentine's Day. They are available in red, white and black, as fine paper, colour cube, handbag, candy box, cube-shaped and rectangular models.