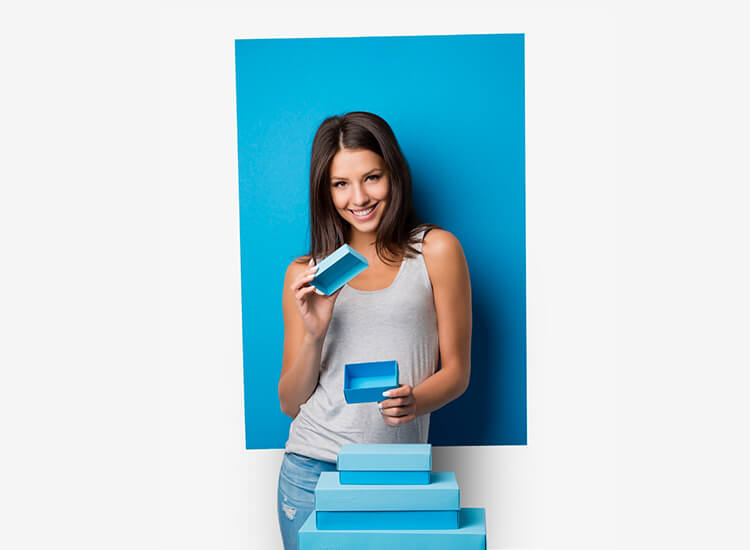 Customization of gift boxes
Our Buntbox team is also more than happy to assist you with any kind of personalizations. We will inform you about all the customization options available and offer you many ideas for your next gift box. Take a look at our range online and get inspired. Do you have any questions? Feel free to contact us, we will be happy to help you out.
There's a wedding box to suit every taste
Wedding is one of the most important days of your life. Such an event deserves more than just a white box. The right wedding gift can make a couple feel loved and cherished. The bride loves bright colours and everything colourful? With our wedding gift box, every gift can be customised. Our wedding gift boxes are available in different sizes. Thanks to our wide range of colour variations, there are no limits to the design of your wedding gift box. From colourful prints to a simple white design, any combination is possible.
Choosing the right wedding gift
At a time of happiness and celebration, you and your party should give the couple a wedding gift that matters. The range of potential gifts is enormous. We all want to express our congratulations with a thoughtful and meaningful gift. The key to finding the perfect wedding gift is to know the couple's interests and lifestyle. Wedding ceremonies are expensive. The bride and groom have probably invested a lot of time, money and effort in planning the ceremony. Accordingly, the gift of cash is relatively obvious. At the same time, this can avoid giving away items that are already in the possession of the bride and groom. However, the probability that other guests will have the same idea is relatively high. How can a rather ordinary thing still be given personality?
This is why the wedding gift box is important
There are several reasons why wedding gift boxes can be important. Many people consider gift wrapping to be an art form. This seems hardly surprising considering the amount of work and creativity that goes into finding a suitable gift for a special person. This can take hours or even days. Not only do wedding boxes provide the perfect envelope for your wedding gift, but they also make unboxing an experience in itself! With the help of our unique Buntboxes, each box can be customised according to your wishes. From white boxes to high quality colour prints, there are no limits to your imagination.
Wedding card box
Wedding card box decorations are a fun and easy way to brighten up the reception table. A customised wedding card box is a great way to personalise the decorations. At the same time, it gives the guests a place to express their wishes. Thanks to our various design options, each card box can be customised to suit your wedding.
One-of-a-kind
The wedding celebration is an incomparably beautiful event. Each person is unique, as are their individual needs. Standardised gift boxes are nice, but they lack personality. We at Buntbox go one step further. Show your appreciation with a personalised gift box. Convince yourself of our high quality and order now.