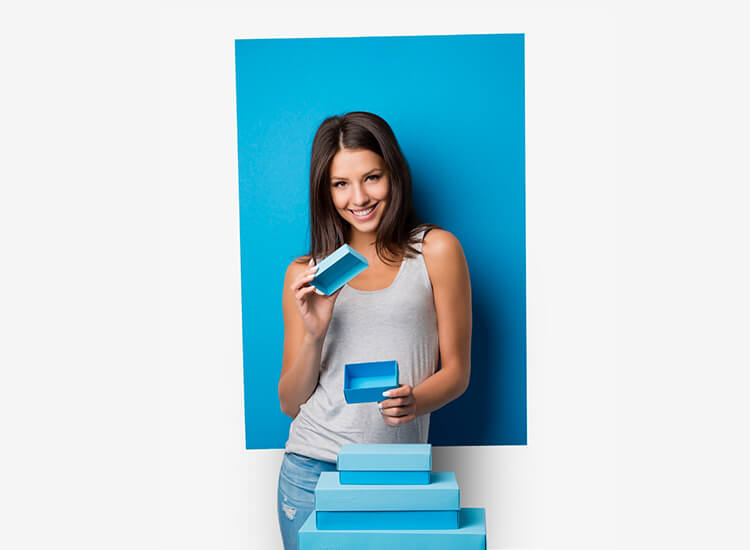 Customization of gift boxes
Our Buntbox team is also more than happy to assist you with any kind of personalizations. We will inform you about all the customization options available and offer you many ideas for your next gift box. Take a look at our range online and get inspired. Do you have any questions? Feel free to contact us, we will be happy to help you out.
A gift needs appropriate packaging
Whoever wants to give a great gift should not neglect the importance of the packaging. The first impression of the gift is primarily created by the packaging. If it is tastefully prepared and designed, it will bring a smile to the face of the recipient. Our XXL 3 gift box with lids can be fully configured, turning the large gift box into another gift at the same time. In our configurator, the packaging can be perfectly personalised. Here you can show the recipient how well you know him or her.
Individualisation in our configurator
Our configurator gives you a completely free hand when it comes to personalisation. Choose one of the many colours from our palette or upload your own photo, image, logo or motif to be printed on the large gift box. Lettering is also possible. Then choose where you want the box printed and show your creativity. If it is a gift, for example, you can print a picture that the recipient will like.
You can use the large gift box for many things
The L gift box is designed for gifts, but of course you can also use it for your own needs. For example, you could use it as a storage place for important work utensils or fill it with documents that are important for your work. Because you can also keep your workplace tidy with our giant gift box. The large gift box with lid is also ideal for private use. You can use it as a jewellery storage box, for example, and the lid is particularly ideal for protecting your jewellery from too much sunlight or other harmful environmental influences. This is especially important for silver jewellery, which tends to tarnish when exposed to too much air and light.
The quality of our gift box with lid in large sizes
Our gift box with lid L is also made of the best materials. The cardboard, which is made from recycled paper, is thick-walled and robust. This way we can guarantee that our products will last a long time and can be used several times. Even items that are difficult to pack fit easily into the giant gift box and are ideally protected. The matching lid is made of high-quality recycled paper and is just as sturdy as the box itself.
Sustainability is important to us
As a matter of principle, we only use recycled paper that is exactly 100 percent recyclable. We attach great importance to recycling and sustainability, which is why our products are exclusively produced in Germany. This avoids CO2 polluting transports such as air or freight traffic. We at BUNTBOX are committed to the preservation of our earth and the climate.
Do you have any further questions?
If you are interested in a XXL gift box, please feel free to contact us at any time. We have a very friendly customer service that is sure to make you happy. Whether you have questions about our production, materials or distribution chain, we want to provide you with the best possible customer experience. We look forward to hearing from you.