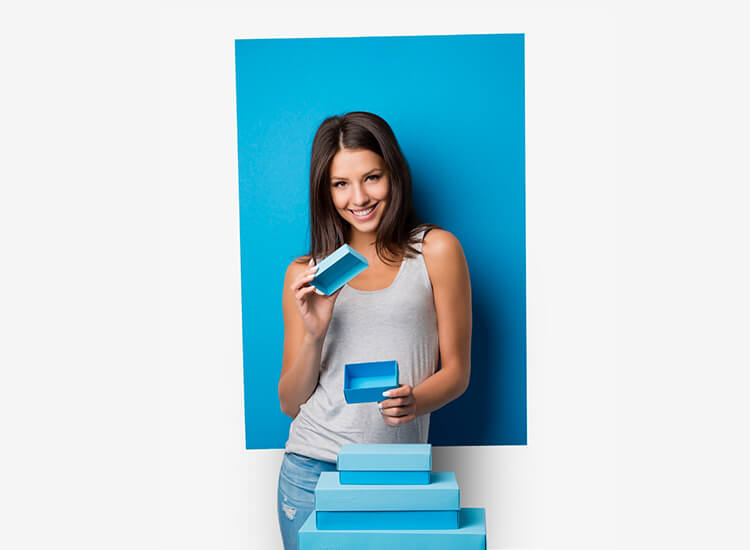 Customization of gift boxes
Our Buntbox team is also more than happy to assist you with any kind of personalizations. We will inform you about all the customization options available and offer you many ideas for your next gift box. Take a look at our range online and get inspired. Do you have any questions? Feel free to contact us, we will be happy to help you out.

Various uses thanks to well-chosen dimensions
The large cardboard box is a true all-rounder and can be ordered in many different versions. Thanks to its size, it has a wide range of uses. It is ideal as a stylish packaging option for a carefully selected gift for a loved one, for storing personal items or important mementos.

A gift for a special person - get your cardboard box personalised
Special occasions require special attention and special attention requires special packaging. It doesn't matter if you're thinking about Valentine's Day, planning an unforgettable birthday surprise or just want to say thank you. The large cardboard box in its various colours, shapes and designs from Buntbox is guaranteed to be the right choice for any occasion. Here you will find bright red for lingerie, elegant white for a wedding gift and friendly colours for Mother's Day. To add a uniquely personal touch, Buntbox also gives you the option to personalise your large cardboard box. On the website you will find all the important information regarding direct printing and foil printing with your own logo. Thanks to the surface, you can also personalise your box yourself. The possibilities for this are extremely varied. You can choose from oil and acrylic paints as well as classic wax paints. Furthermore, chalk, coloured pencils and felt-tip pens can be used without any problems. With the help of various adhesives, stickers and stamps, the personalisation can be wonderfully rounded off.

Many advantages in one product - you too can benefit from the large cardboard boxes from Buntbox
With the large cardboard box, you are not only choosing a product that has proven itself in practice, but you are also making a significant contribution to the topic of sustainability. Buntbox focuses on the important aspect of environmental friendliness both in the production of its cardboard boxes and in their dispatch. The material of the boxes is of immense advantage. They are "Made in Germany" and are made of 100 percent recycled cardboard. This makes them clearly preferable to boxes made of other materials such as environmentally friendly plastic. They are robust and stable and can therefore be used over a long period of time. In the course of delivery, care is taken to keep the product to be delivered as flat as possible. In this way, valuable storage space can be saved. Since Buntbox is concerned about the satisfaction of its customers, the delivery times are kept as short as possible. Another advantage of the large cardboard boxes from Buntbox is their attractive appearance. The company attaches great importance to individual design and a lovingly created appearance. If you want to choose a particularly eye-catching box, you can go for a product in bright colours. No matter which cardboard box is chosen in the end: With the products of Buntbox you can expect an optimal price-performance ratio.