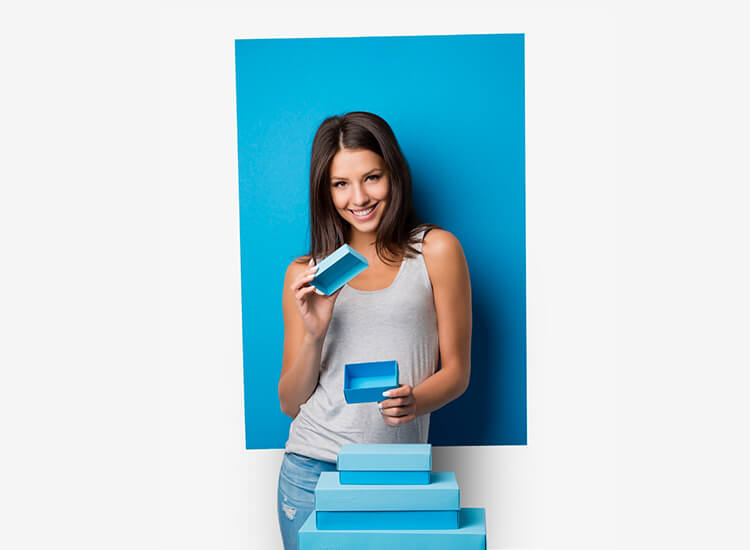 Customization of gift boxes
Our Buntbox team is also more than happy to assist you with any kind of personalizations. We will inform you about all the customization options available and offer you many ideas for your next gift box. Take a look at our range online and get inspired. Do you have any questions? Feel free to contact us, we will be happy to help you out.
Gift box with embossing: glamorous prospects for gifts
BUNTBOX offers you high quality gift boxes in 4 different sizes. From the small gift box to the larger version to the gift box set and custom-made folding boxes, the whole variety of decorative gift boxes is at your disposal. Particularly interesting is the possibility of combining different coloured top and bottom parts. For the boxes we offer you 24 great colours to choose from. Once you have found a suitable gift box for your gift, we open up various possibilities for configuration and personalisation. You can have your gift box printed or finished with high-quality foil stamping. No matter whether your gift box with foil embossing is given a lettering, a motto or a logo, the embossing makes your gift box unmistakable and very personal.
How does foil embossing work?
Heat foil embossing is the classic form of foil embossing. We often see it on invitation cards for weddings, christenings and other family celebrations. Of course, at BUNTBOX we can also produce gift boxes with foil stamping. In this finishing process, the motif is released from a metallic foil with the help of a heated stamp and embossed on the box. This creates a raised design with a metallic sheen that gives the printed product a very high-quality look. The haptic contrast between the motif and the rest of the cardboard is immediately noticeable. A hot foil print from BUNTBOX can be flat or relief, in any case it is very decorative. The flat embossing is the simplest and therefore also the cheapest variant. Whether matt, shiny or pearlescent, we can also produce very fine lines in-house.
Gift boxes can also be printed to score points in business
Gift boxes with embossing also make sense in the business sector. After all, the boxes are available to you as advertising space at low cost. You should not miss this opportunity. Especially at trade fairs, when customers and potential customers are advertising for you with the gift box in their hands, it is invaluable. Your product is presented much more impressively in beautifully designed packaging. The decorative foil imprint on the lid of the box makes your brand easily recognisable and increases your brand recognition. Our gift boxes with foil embossing are also a wonderful on top of the gift, because they can be reused. This makes them a very sustainable form of packaging. Hand out individually printed gift boxes to your customers and you will be remembered for a long time. Thanks to the latest printing technology, we offer you the highest print quality even for small print runs.
Our entire know-how for the perfect printing of your gift box
For every order in foil printing, we produce an individual printing stamp. To make the production as cost-effective as possible for you, we recommend a minimum order of 100 boxes. We deliver our BuntBOX gift boxes with foil embossing flat, which means you can store them in a space-saving way until you actually use them. So it makes even more sense to build up a small stock. For the next round of gift-giving, you'll have aesthetic boxes in the right format and design to hand.
A large, flat box with a large, flat surface is ideal for gift-giving.