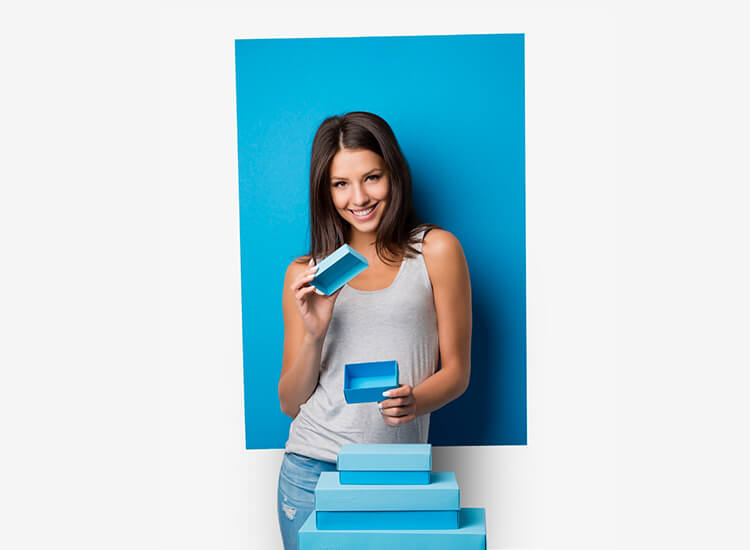 Customization of gift boxes
Our Buntbox team is also more than happy to assist you with any kind of personalizations. We will inform you about all the customization options available and offer you many ideas for your next gift box. Take a look at our range online and get inspired. Do you have any questions? Feel free to contact us, we will be happy to help you out.
Individuality as a unique selling point - which box meets your needs?
Depending on what you need one of our DIN A4 boxes for, we offer you a free hand in our configurator with regard to its design. There are almost no limits to your artistic talent and you can choose from a variety of colours. The Buntbox fine cardboard ensures particularly beautiful effects during the colouring process and has bold colours at the end. It is also possible to upload your own image or logo in the print configurator and place it in the desired position on the DIN A4 box. If you need DIN A4 boxes for your company, the company logo can be used as a print motif. If you want to design an DIN A4 box as gift packaging, then a picture of you with the recipient on the box is a good idea. This is sure to put a smile on the recipient's face.
Possibilities for using an DIN A4 box
Perfect for private households
An A4 box can be used in various ways. In private use, the DIN A4 box is ideal for storing photographs, pictures, jewellery or other items. For such purposes, an DIN A4 box with a lid is ideal to protect the items inside from dust or unnecessary exposure to light. Precious metals and photographs are particularly sensitive to light. A box that can be closed is therefore particularly suitable for storing sensitive items or items of value. If you are not satisfied with an DIN A4 box with lid, we also offer an DIN A4 folding box or an DIN A4 storage box. DIN A4 folding boxes or DIN A4 lidded boxes offer the same protection as a traditional DIN A4 lidded box, but can be closed in a different way.
Can also be used for business purposes
Cut to fit standard stationery, a Buntbox DIN A4 cardboard box can also be ideally used in the office. In everyday business, nothing is more important than keeping all documents in order. Here a box, tailored to DIN A4, is the perfect solution.
Also available as a Maxibrief box
If you want to send parcels in DIN A4 format, then you will also find what you are looking for. Our sturdy Maxibrief boxes guarantee security during shipping.
Even book-shaped boxes are available
If you need a book-shaped box, we are also your best contact for this.
We pay attention to environmental compatibility and recyclability
Our high-quality cardboard boxes, from which our boxes are made, are extremely environmentally friendly and recyclable. The boxes are made of 100 percent recycled paper and are therefore absolutely environmentally friendly. Our natural product is completely environmentally friendly and is produced exclusively in Germany.
We look forward to hearing from you
If we have aroused your interest in an individual box in DIN A4 format, please do not hesitate to contact us. We will be happy to help and advise you with your order.