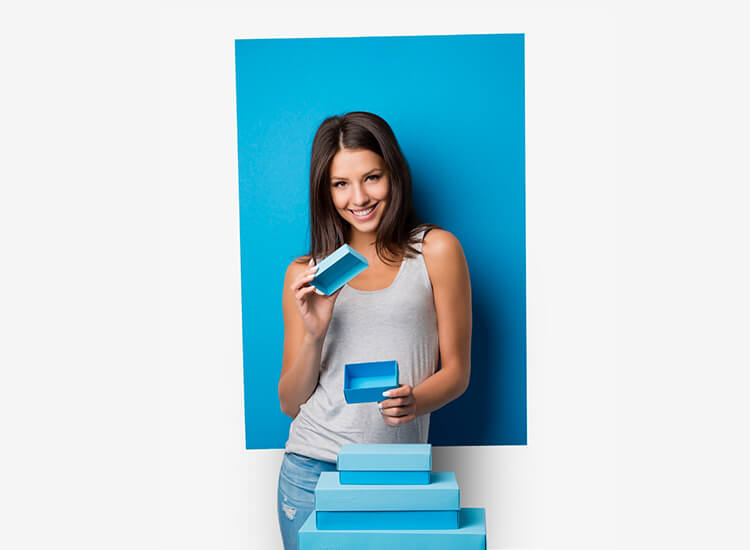 Customization of gift boxes
Our Buntbox team is also more than happy to assist you with any kind of personalizations. We will inform you about all the customization options available and offer you many ideas for your next gift box. Take a look at our range online and get inspired. Do you have any questions? Feel free to contact us, we will be happy to help you out.
Surprises in the gift box for children
Every baby enjoys surprises. Whether it's a colourful dummy with a dummy chain or another gift in the dummy box, it's fun for the little one to solve the mystery. The toy box could contain a bath animal, a cuddly toy, a soft ball or humming top. A box from our Animal Collection or Pets Collection with cute animals is very popular with all little children. At the same time, the great box or bag is not disposable. The little ones love to play with the colourful boxes. The dummy box, teddy box or heart box is opened, closed or filled with toys with enthusiasm. Long after the baby has parted with the last dummy, the box will be fun to play with.
Your own ideas for the personalised gift box
Are you the favourite aunt or uncle? Then upload a photo of yourself for the colourful box. You can also upload photos of your pet, zoo animals and other images for a print. Perhaps there are suitable photos on your mobile phone or you simply go on a motif search. With personalisation, you have complete freedom to design the box cover. Simply choose a gift box in the colour and size of your choice and upload a photo 1-2-3.
You can creatively embellish a teat box, a neutral colourful box or cardboard bag at home. Young children have fun with colourful stickers. Do you like to draw? Then paint the Buntbox for your baby with flowers, stars and other motifs. Toddlers love gifts that are packed especially imaginatively for them.
Play fun with colourful cardboard boxes
With our Colour Bricks cardboard building blocks, we even offer special play fun with the box for little master builders. The colourful cardboard boxes in the size of real bricks are available to buy as a set. They are shipped unfolded and can be stored flat again after playing. Playing with the environmentally friendly cardboard bricks encourages dexterity and provides imaginative fun. Even from the crawling age, you can give children a successful surprise.
Buntbox in many colours and sizes
In our shop, you will find chic Buntboxes in the right size for a wide variety of baby gifts. We offer the funny dummy box, box with babies and other motifs as a small cube or large rectangular box. You will find chic pillow boxes, bag boxes, bücher boxes for picture books. Ready-printed and personalised boxes are available in a wide range of colours from light blue to red, green, orange and white. The Buntbox in many colours can also be ordered by size.
Children's gifts for every occasion
We offer decorative, colourful gift boxes for the little ones for all occasions such as Christmas, Easter and the first birthday. In a cute toy box or a soother box you can pack the little present for a visit in an imaginative way. To have a Buntbox ready for spontaneous gifts, it's best to order a few boxes in different colours as a stock. Neutral boxes can be decorated at home as desired.