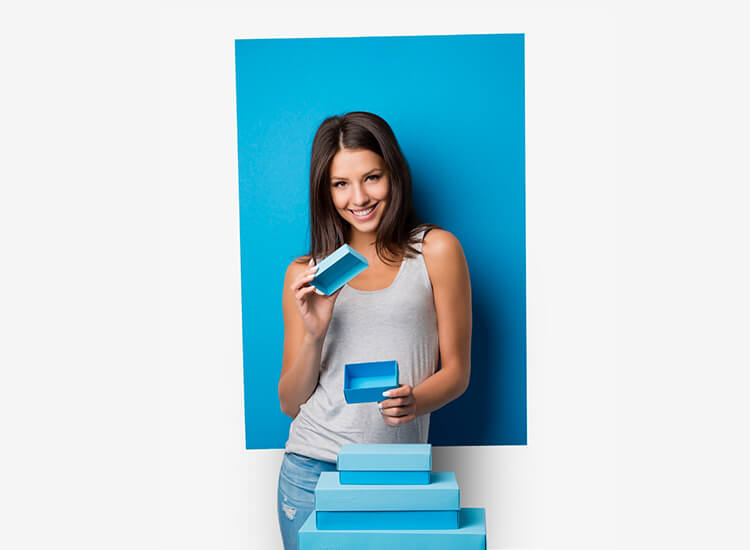 Customization of gift boxes
Our Buntbox team is also more than happy to assist you with any kind of personalizations. We will inform you about all the customization options available and offer you many ideas for your next gift box. Take a look at our range online and get inspired. Do you have any questions? Feel free to contact us, we will be happy to help you out.
Setting real accents with decorative items
If you're fü decorative gift boxes then you are choosing a chic gift box of the highest quality. But which decorative items are particularly popular? We have a selection for you here:
+ Angels
+ Inscribed stones
+ Figurines and baubles for the garden
+ Decorated flowers
+ Music boxes
+ Candles
The list could go on and on, but ultimately everyone has their own taste. If you have decided on a decoration box, you can design the decoration boxes yourself. This makes the decorative box even more unique and the decorative item attractively packaged.
The decorative box with lid and the unusual design
Do you want to package your decorative items with a decorative gift box from Buntbox? Then you have many options to choose from. First of all, you have to find the right decorative box with lid. The decorative box with lid protects the decorative item perfectly and looks great as well. Once you have found the decoration box of your choice, you can choose a colour for the decoration box. By the way, you can choose a different colour for the decorative box with lid. This creates a nice contrast in the deco gift box. You can then decorate the gift box for decorative items with a motif. Either design the decorative box with a saying of your choice or upload a corresponding graphic. Photos also look particularly good on the decorative box with lid. By the way, you don't take any risks when designing the decorative box with lid. With the help of a virtual configurator, you can see in advance what your decorative boxes will look like in the end.
The decorative box with lid can be presented on many occasions
If you have decided in favour of our attractive decorative boxes, the result will convince you. The deco gift box is made of high-quality materials, has bright colours and is absolutely unique thanks to the print. Wouldn't this be the perfect gift for the next birthday or a company celebration? Employees and business partners will be equally pleased with the decorative items and you will show that you have put some thought into it. The gift box with the very own design can also be used for weddings or christenings.
The sustainable production distinguishes the decoration box with lid
The gift box by Buntbox is not only manufactured in Germany, it also consists of 100% recycled cardboard. Environmental protection is written in capital letters here. This eliminates long and costly transport routes. In addition, the ordered gift boxes arrive quickly. Our decorative box is a real must-have for all those who place great value on personal gifts. There is no better way to wrap a decorative item and you should definitely give it a try.