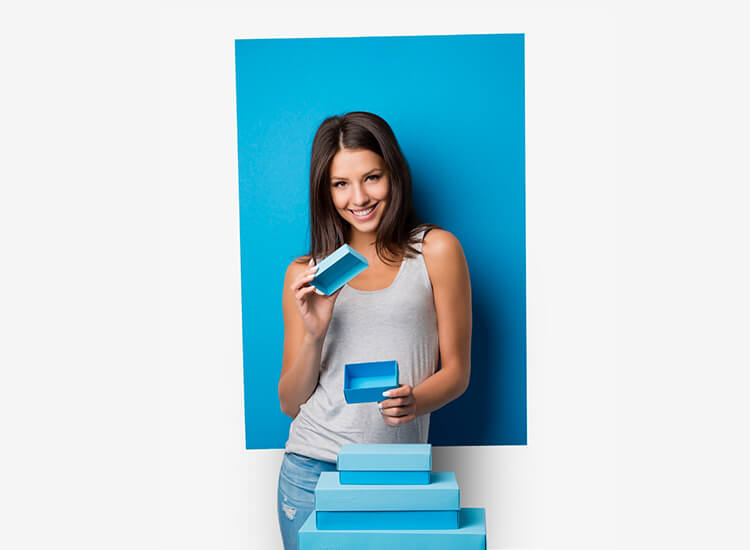 Customization of gift boxes
Our Buntbox team is also more than happy to assist you with any kind of personalizations. We will inform you about all the customization options available and offer you many ideas for your next gift box. Take a look at our range online and get inspired. Do you have any questions? Feel free to contact us, we will be happy to help you out.
Which products fit into the folding box for cosmetics?
Because of the wide range of products available at Buntbox, you can fit almost all common cosmetic products in the cosmetics box. For example:
Lipstick
Mascara
Cream
Powder
Nail polish
Eyeliner
Make-up
Parfüm
As you can see, the make-up box is a real all-rounder and should not be missing in any bathroom. If you want to give a cosmetic product or a perfume as a gift, you will certainly want to package it attractively. Even then, the perfume packaging from Buntbox will convince you.
Keep your bathroom tidy
The bathroom is often chaotic. Where was the lipstick again? I can't find the make-up brush. Wasn't my favourite perfume just there? In short, it's difficult to keep track of the variety of drugstore products. The lipstick packaging and the perfume packaging put an end to the disorder. From now on, every cosmetic product has a fixed place. It looks neat and you save a lot of time. Everything looks much more organised and ordering is possible without much effort. Why not get yourself a make-up brush box or keep things clear with the lipstick box?
Your design makes the cosmetics storage unique
The special feature of the make-up storage from Buntbox is certainly the individual design options. Have you always wanted to own a cosmetics box that you have created yourself? With Buntbox this is possible. First of all, you choose the box you want. Do you prefer a square cosmetic box or do you want a lipstick box? You can also design perfume packaging with us. Once you have found the right cosmetics folding box, you can choose the colour. You can also order different boxes in different colours. This makes storage even easier. We have many colours for you to choose from and you will definitely find your favourite model. But the design goes even further, because your cosmetic box can be personalised with a print. You can either have the name of the contents printed on the box or choose an attractive motif. Everything is possible and you can, for example, design a make-up brush box that no one else has. The boxes also make great gifts.
The sustainable way to store cosmetics
When you order your cosmetic box square, we guarantee short delivery times. In addition, all cosmetics folding boxes are made from 100% recycled cardboard. Whether you choose a perfume box, lipstick box or make-up brush box, all products are of the highest quality and are made in Germany. This form of make-up storage is very popular and, despite its high quality, it offers an excellent price.