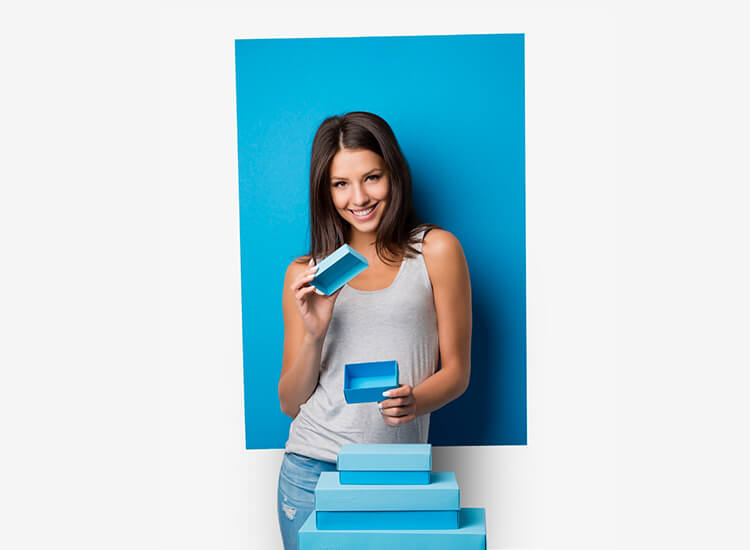 Customization of gift boxes
Our Buntbox team is also more than happy to assist you with any kind of personalizations. We will inform you about all the customization options available and offer you many ideas for your next gift box. Take a look at our range online and get inspired. Do you have any questions? Feel free to contact us, we will be happy to help you out.
All sports catered for
If you fü When you choose a sports gift box from Buntbox, the sport of your heart doesn't matter at all. Thanks to your choice of motifs, you can set the scene for any sport with the packaging. You are also free to choose the gifts themselves. How about the following sports items:
Of course, there are many more sporting goods that find their place in the Fitness gift box.
Also in demand as a storage box
You can use our gift box Sport not only for gift giving. Thanks to its robustness, it is also in demand as a storage box for sports . When it comes to sports it often has to happen quickly. How good that you have your sporting goods at your fingertips. Why? Because you have the storage box Sport . It puts an end to clutter and looks great. You can order the storage box for sports in different colours and dedicate a separate box to each sport.
Finding the right fitness gift box
If your friends and family love sports then a sporty gift is a natural choice. But how can this be attractively packaged? How about our gift packaging for sports? Gift wrapping for fitness is also in demand, because if you do something for your body, you will be happy to receive the appropriate gifts. First of all, choose the gift packaging that best suits your gift from our extensive stock. After that you can show your creativity.
Take over the design
The first step is done and now it's time for the individual design. At Buntbox, we offer you a wide range of colours. What should your storage box look like? Our colours have an enormous luminosity and you can respond to the personal preferences of the recipient. But you don't just get to choose the colour of the sporty packaging, you can even have it printed. Do you want to immortalise wishes on the box or have a specific motif applied? No problem at all. Simply upload the desired file and the virtual configurator will immediately show you the expected result. If you use the Fitness gift box as a storage box, you can clearly label it. That way you always know exactly which sports equipment is in which box.
We focus on sustainability
Whoever plays sports also wants to achieve sustainable success. We feel the same way about environmental protection. That's why our gift packaging Sport is made from 100% recycled cardboard. We take environmental protection seriously. In addition, we produce all storage boxes for Sport exclusively in Germany. The transport routes are short and this also protects the environment. In addition, Buntbox stands for fast delivery times. You should try it out and keep your sports stuff tidy. If you want to give a sporty gift, then our gift boxes for fitness are the perfect choice. We offer you the highest quality at a fair price. Sporty gifts are also in demand as promotional gifts.