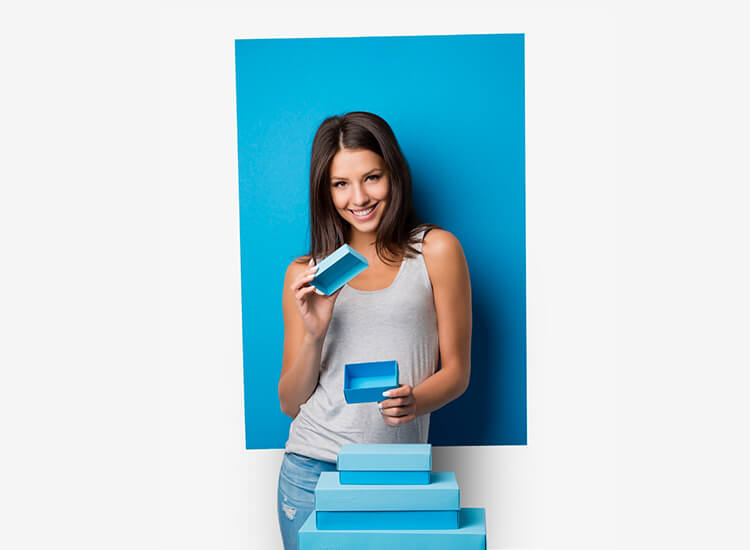 Customization of gift boxes
Our Buntbox team is also more than happy to assist you with any kind of personalizations. We will inform you about all the customization options available and offer you many ideas for your next gift box. Take a look at our range online and get inspired. Do you have any questions? Feel free to contact us, we will be happy to help you out.
Advantageous packaging
A sweet gift box has a number of advantages for the recipient. It puts the gift in the right light. Moreover, it can be reused later and filled with little things that are close to one's heart. Alternatively, it can also be used as a candy box or a small plate box. The wonderful design of the candy storage alone ensures that it will be placed on the table or on a shelf as a beautiful decoration. A little tip: If the biscuit box is used on higher shelves, you should tilt it and lean it against the wall so that its design can be easily seen.
As the person who presents the candy box, you also have advantages. The box is definitely a candy surprise box, because the delicious treats are not immediately recognisable. It is also ideal for storing sweets, because not everything is usually eaten in one go. In addition, such a candy gift box always fits, even for small gifts, because we stock many different sizes. Last but not least, you can choose the lid and the box separately, so there are countless combinations. So you can choose the candy box just the way you want it. And it offers a variety of designs, so the motif you choose is sure to be perfect for the person you want to give the box to.
Delightful candy storage
Sometimes when you get candy as a gift, you think it's a boring idea. With a great surprise box as packaging, that certainly won't happen. Take a look at the variety of our boxes and ask yourself a few questions: What colour do you prefer? For example, there are modern and vintage colours. The numerous options for decorating the candy box will then match.
What such a decoration looks like depends, of course, on the occasion. Occasions such as Christmas and Easter are just as suitable as birthdays and parties. But maybe you need a biscuit box as a gift for a successful exam, a driving licence or your first own flat. Such a sweet box can even be personalised, which makes it even more valuable. You can also choose a timeless design so that the sweets box will still be looked at with pleasure even after years on the shelf.
Biscuit box or sweet box?
The sweets from liquorice & candy to fruit gums and crunchy chocolate are quickly chosen. You should take some time to choose the sweets gift box. This also applies to company owners, because our candy surprise box is also suitable as a welcome promotional gift. It can be individually designed and produced in different quantities. It's best to let us know in good time so that the date works out. A candy box or a small plate box is a great idea for regular customers or good business friends, for example. Such a high-quality packaging for the usually just as valuable contents is absolutely stylish.
Conclusion
Just try packing the sweets you usually give away in a box next time. If you have any questions, we will be happy to help. Just give us a call!