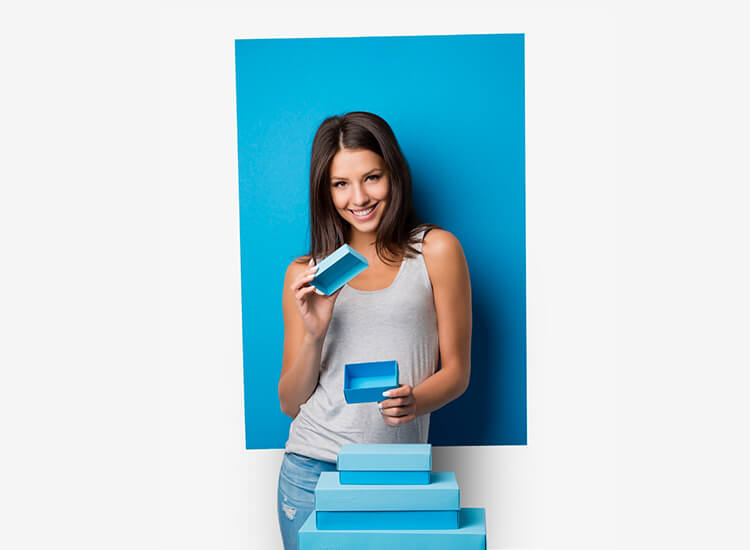 Customization of gift boxes
Our Buntbox team is also more than happy to assist you with any kind of personalizations. We will inform you about all the customization options available and offer you many ideas for your next gift box. Take a look at our range online and get inspired. Do you have any questions? Feel free to contact us, we will be happy to help you out.
Creative packaging for all occasions
Gift and promotional packaging can generally be designed differently: The type of box depends primarily on the contents. A smaller content must be protected either by an insert or by an additional subdivision inside the box. Pull-out boxes, for example, are suitable as packaging, but hinged-lid boxes and pillow boxes can also pack gifts beautifully. Hinged-lid boxes that open upwards at the front can create the treasure chest effect: The lid öopens slowly and the beautifully presented gift becomes visible. Large overlay boxes can contain larger gifts. Beautiful and lovingly designed gift and promotional packaging adds the finishing touch to any gift. Here you can buy many original gift boxes and promotional boxes printed or unprinted for all occasions. Particularly recommended are, for example, white gift boxes for wedding gifts, which can be refined with B&W and personalised print or stickers.
Buy printed and unprinted gift boxes
You are looking for gift boxes and boxes for your wedding or birthday party? Here you will find printed and unprinted, small and large gift boxes in all possible colours. No matter if you are looking for fancy gift boxes or simple gift boxes. In addition to a wide range of gift boxes and accessories, we also offer our customers personalised options. This way you can give gifts a personal touch. You have lovingly chosen a gift and want to express this in a gift box? But just wrapping it in paper and tying it with a gift bow is boring. Gift boxes are meant to arouse curiosity and anticipation for a gift. Our small gift boxes for baptism, communion, confirmation, wedding or other occasions are particularly popular. We also have the right ideas for packaging wedding or christening gifts.
Boxes for jewellery, gifts, souvenirs and sweets
Decorative boxes in white, boxes with print and other options. Here our customers will find the perfect gift boxes for their Christmas and birthday presents. Whether noble with gold embossing or rustic brown kraft paper, whether folding box, pillow box or other form, whether with print or without print, we have the right gift box for your style. Our gift boxes are also popular for selling small items. Lined with tissue paper, decorative boxes are perfect for jewellery or small handmade treasures. Are you looking for a special gift box for your present? Then you are definitely in the right place!
Gift boxes as a loving gift
Wrapping gifts can be tedious. Not so with our cardboard boxes, gift boxes and gift boxes. With this type of gift wrapping, all you have to do is put the contents in the box, fill it with decorative filler and decorate it with a nice ribbon. The gift is ready. Our gift boxes are not only suitable for presents, but also for an attractive presentation. The gold inlay versions are ideal for presenting and packaging valuable gifts. If you need to package several products or gifts at once, our larger packaging is a particularly attractive solution. If you want to present your products in a public place and protect them safely, we recommend our sturdy boxes. Our gift boxes are easy to assemble in just a few steps and do not require any additional manual work. All our gift boxes are foldable and are shipped flat.