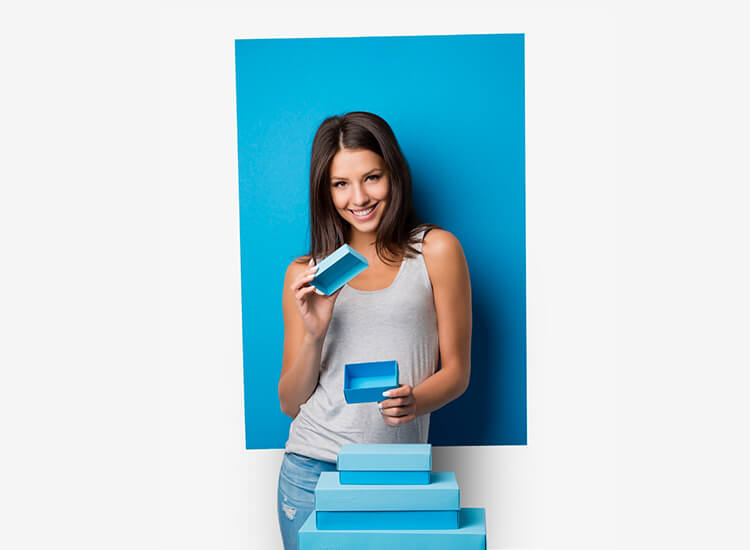 Customization of gift boxes
Our Buntbox team is also more than happy to assist you with any kind of personalizations. We will inform you about all the customization options available and offer you many ideas for your next gift box. Take a look at our range online and get inspired. Do you have any questions? Feel free to contact us, we will be happy to help you out.
The box set with great effect
Gifts are usually very individually selected, are presented with love or as a small gift. Not everyone has a good hand for wrapping gifts in paper. It is easier to rely on professional packaging material and to emphasise the visual effect in a decorative and unique way. It is quite different when clothes or cosmetics are wrapped crookedly or elegantly presented in a beautiful box. Stacking several boxes that are colour-coordinated is particularly effective. The luxurious box set is an excellent solution for Christmas, wedding and family gifts, corresponding to holidays that usually involve the giving of several presents. Bücher, jewellery, electrical appliances, smartphones or music are even better gifts in uniform packaging. The gift box set is also a good choice for companies to present prizes or promotional gifts in the same format. This way, different items of a brand can be collected and rediscovered.
Gift box in several sizes
The gift boxes are available in a set of three boxes. But you can also put several together. It is practical that the sizes are variable and the set contains small, medium and large models. They are stable and elaborately designed, both design box and reusable box. Stability and decoration are also provided on the inside. Alternatively, the simple gift boxes can be lined with paper and filling material. A particular advantage of a box set is the presentation in different sizes. The boxes can be easily stowed away and then unfolded and matched to each other when needed. With their elegant look, they always guarantee a unique gift that shows that it has been packed with love. Choose your set in the colour of your choice and in three practical sizes. BUNTBOX also offers &Um;bergrüß;ßen or the small box for jewellery. You can also use the boxes individually and enjoy the price advantage of the set offer.
Gifts in a gift box set for every occasion
The assortment of BUNTBOX includes a wide range of box sets, which are delivered in 6 parts. Each box is available with a lid, making it suitable for both gift giving and as a regular box for storing small items. Popular models are the Hikidashi boxes, which are reminiscent of a Japanese drawer and are available in sizes L, M and XL. The simple elegance of the gift box set is shown through warm and inviting colours in pink, brown, beige and white. You can store anything you want in the box, including clothes, bücher or jewellery. As a gift set, the boxes have a unique effect and guarantee the surprise effect. Wrap the gift boxes in decorative paper if you want more variety, or present them neatly arranged with a gift bow under the Christmas tree or on the gift table. The gift box set is ideal for wedding gifts, birthdays and anniversaries. Choose the most beautiful gift boxes at BUNTBOX and present your guests with style and elegance.