What kind of box would you like?
Do I need a box with a lid or would I prefer a cube box? Your personal preferences and the intended use are decisive for your decision. You will find the following variants for you to discover:
New now: The canvas made from recycled cardboard by Buntbox
The new Buntbox Frame is a canvas made from 100% recycled cardboard.
You can use the canvas as creatively as you like; for example, use wax paints, oil and acrylic, chalk, adhesives, stickers, stamps or simply coloured pencils and felt-tip pens (everything will stick to it).
The canvas is available both blanco and with many beautiful motifs to colour in.
Now it's getting animalistic! - with the animal motif boxes from BUNTBOX
Panda, fox or giraffe? Our Animal Collection is cute and practical at the same time. Are you looking for a gift box with an animal motif? BUNTBOX has many different gift boxes for every taste and many occasions. For example, would you like a storage box with forest animals? Then our gift box 'Fox in the snow' might be the right one for you. The box is available in the colours diamond and azure blue and in many sizes.
Would you prefer a different folding box with an animal motif? Our gift box with panda motif is available in three different designs: in sunny yellow, Atlantic blue and ruby red with a matching flower in the hand of the cuddly bear. Also discover our other animal-themed gift boxes.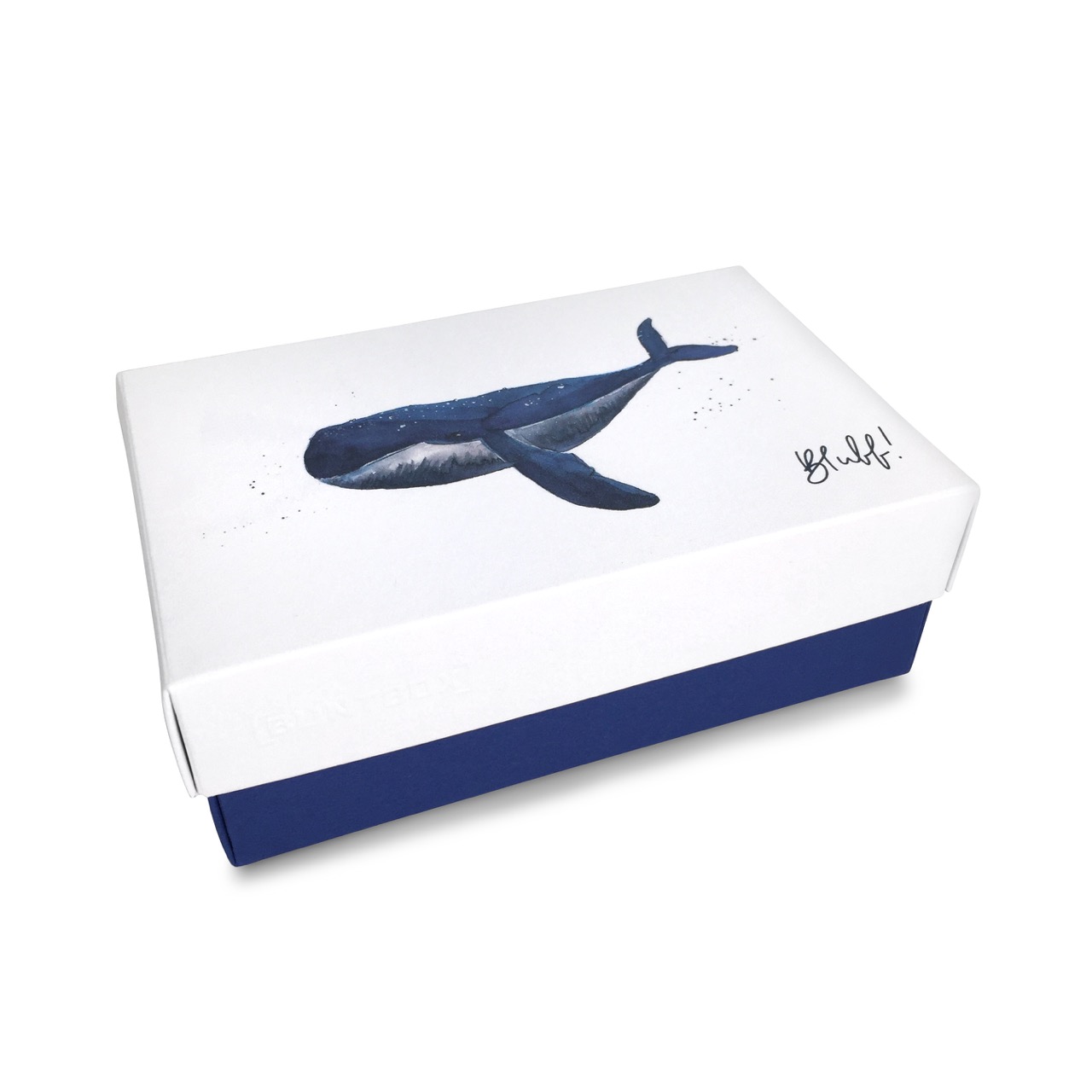 Buntbox S Blubb in Diamant-Saphir
Blubb gift box Gift boxes in different sizes. Cardboard thickness: 350 g / m2. The top is printed with Blubb design. The lower part is unprinted and comes in the color Graphite.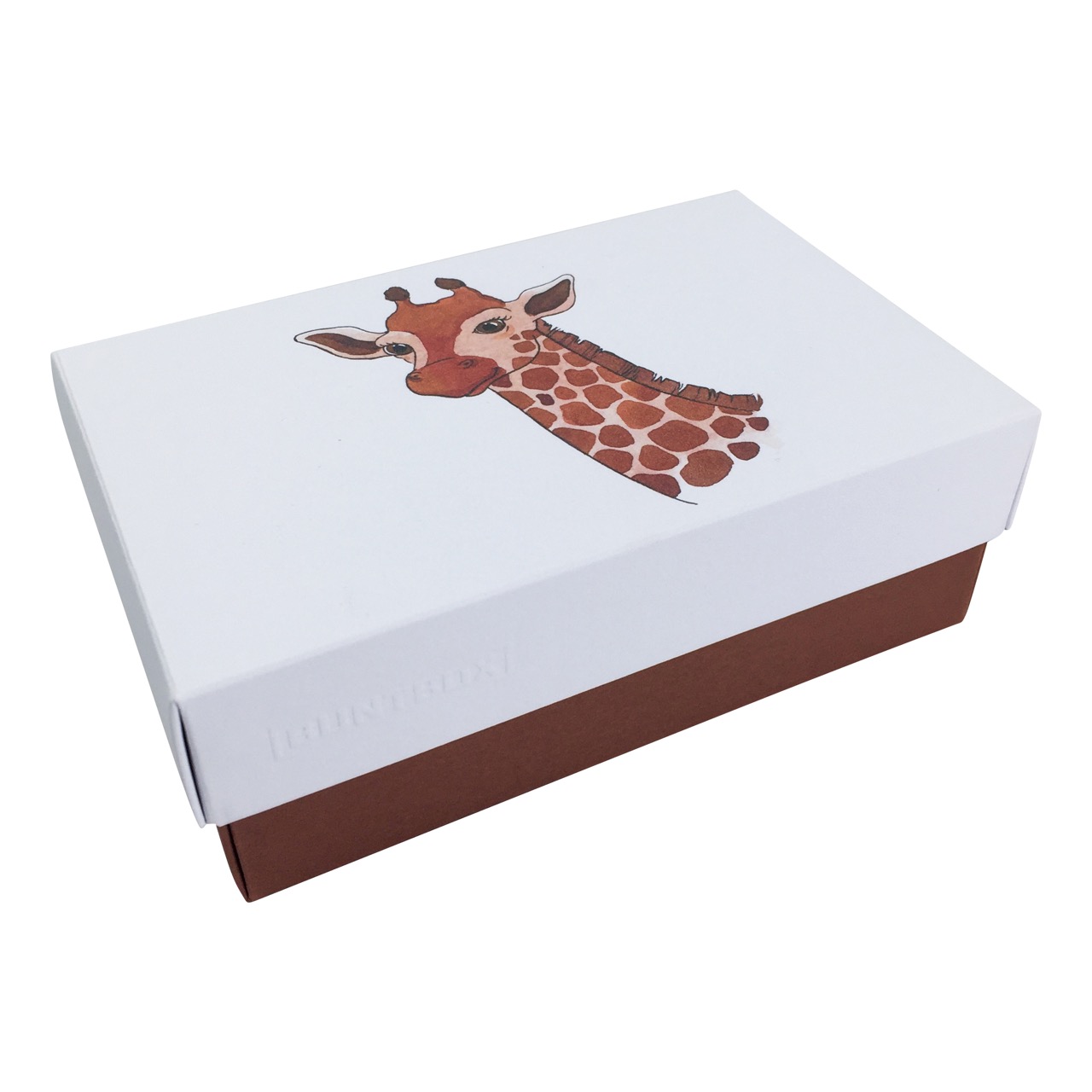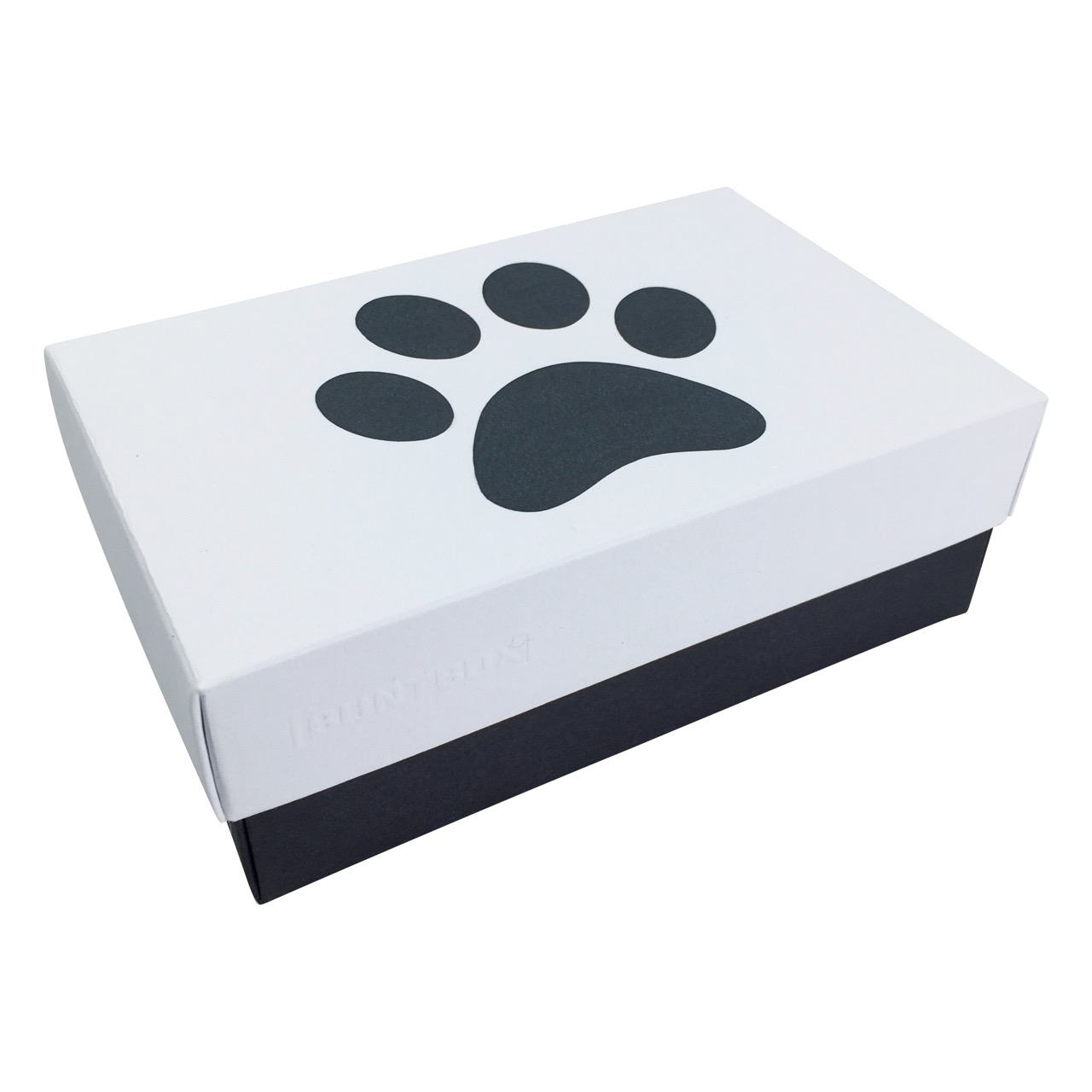 A gift box with love - give romantic moments with BUNTBOX
.
You like someone? Why not say so with a gift box from BUNTBOX. Our love message boxes can be customised with a romantic motif or wording to suit the size of your gift and the occasion. The cube boxes from BUNTBOX are perfect for smaller gifts such as jewellery or chocolates and come to your home in a red box with a golden kiss, for example. Our love boxes are also available in the form of a pillow box or paper handbag, which are elegant and chic in the colours white, red and black. Let yourself be surprised, for example with the BuntBOX Handbag 'Für Dich' by schonschön. The cardboard handbag comes in DIN A5 format and is embossed in gold.
Danke sagen – mit einer Danke Box von BUNTBOX
Es gibt viele Gründe, um einmal Danke zu sagen. Doch wie bedankt man sich am besten? BUNTBOX hat vielleicht die passende Lösung für dich: Mit unseren Geschenkboxen ist es ganz einfach, ein Dankeschön auszusprechen an Freunde, Familie, Bekannte, Kollegen, Mitarbeiter und viele mehr. Wenn du keine Blumen verschenken möchtest, dann übernimmt unsere Geschenkschachtel 'Thank you with Flowers' das gerne für dich. Diese Dankeschön Box hat einen wunderschönen Schriftzug sowie ein zierliches florales Motiv und ist in drei verschiedenen Varianten verfügbar: In Form einer Geschenkschachtel, Kissenschachtel und Würfelbox ist sie auch für den Muttertag bestens geeignet, um Danke zu sagen.