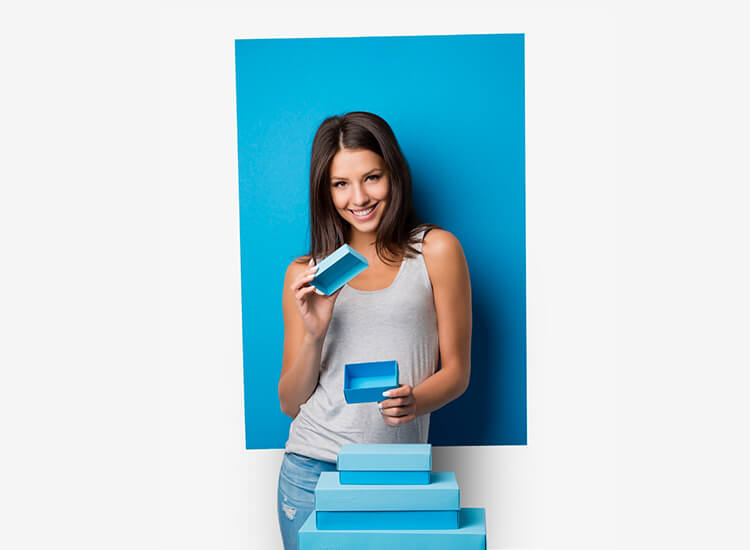 Customization of gift boxes
Our Buntbox team is also more than happy to assist you with any kind of personalizations. We will inform you about all the customization options available and offer you many ideas for your next gift box. Take a look at our range online and get inspired. Do you have any questions? Feel free to contact us, we will be happy to help you out.
Where do the smileys on our emoticons boxes come from?
Smileys are nowadays a means of expression in digital communication, especially in the social media area of Facebook, Twitter & Co. But where does their temporal origin lie? How far back does it go? In 1999, a good 20 years ago, the Japanese interface designer Shigetaka Kurita designed the first prototypes of these "emojis". Within the first series, these were a total of 176 pictograms (graphics) for the mobile phone company NTT Docomo. The term "emoji" comes from three Japanese writing symbols. "E" stands for "picture", "mon" for "expression" and "ji" for "letter". Every day in the digital world, millions of chats are written with these expressive pictograms. They more or less reflect the emotional state of the chatters during their dialogues. On the more than 3,300 pictorial signs for communication, there are more and more varied depictions of smiling or even cheerful laughter. Sometimes you can also see tears on the round pictogram faces.
Our gift packaging "Box Smiley" makes others happy with the matching emoji smile
We at BUNTBOX sell creative gift boxes with appealing, printed motifs in our online shop. For example, you can order various emoticons boxes with friendly smiley gift emojis on our website. The beautiful surprise boxes are available in a variety of colours. Choose your emoticons box in our webshop, order via our shipping and then give them your personal smiley gift. This is an easy way to bring joy to your loved ones. Your friends will be in the mood for the gift in the box thanks to the funny and cheerful emoji in the middle of the surprise lid. Your creative Box Smiley will then open the doors to the hearts of your fellow human beings. Make other people really happy in this simple but original way with your individual gift item.
Which special items can you optimally give away with the Smiley Box?
With the Emoticons Box you can pack different surprise gifts in the best possible way. We would like to give you some practical examples here:
Give funny or exciting books as a matching smiley gift
Send coffee and tea in the smiley box
Give captivating holiday photos in the colourful happy BuntBOX box
Creative toys for children with a matching emoji;
Give creative toys for children with a matching emoji
Send fun party items in the box
Snacks in the emoticons box
Send decorative items with a nice "smiling emoji" to your friends
Last, but not least: Send beautiful, fragrant flowers in the Smiley BUNTBOX
Last but not least
Our exclusive Smiley boxes can also be personalised with their inspiring emoticon motifs. You can also have your own image files printed on the boxes. Our customer-friendly service makes many things possible. We look forward to hearing from you by phone. Or you can contact us online via our contact form.