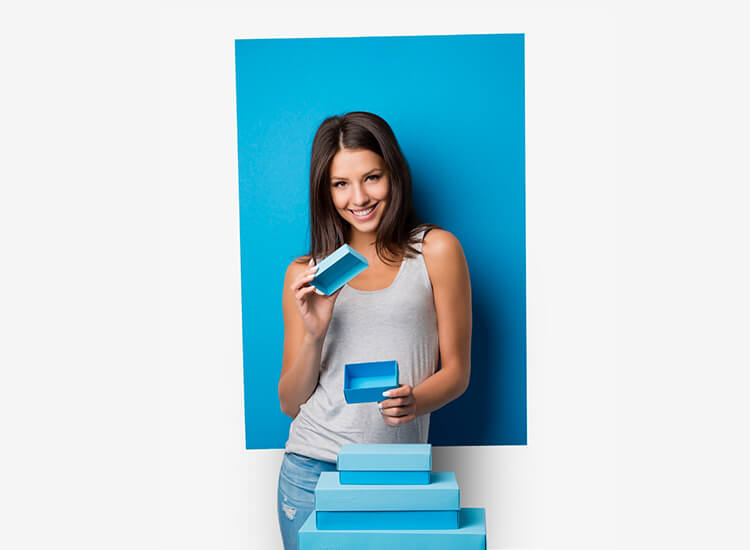 Customization of gift boxes
Our Buntbox team is also more than happy to assist you with any kind of personalizations. We will inform you about all the customization options available and offer you many ideas for your next gift box. Take a look at our range online and get inspired. Do you have any questions? Feel free to contact us, we will be happy to help you out.
Various formats for various purposes
We offer you our printed and unprinted boxes in different practical formats. Our boxes with lids are particularly popular, as they can be conveniently used both as gift packaging and for storing things. Furthermore, we have boxes in the shape of a cube for you to choose from, which are a good choice especially as a gift box. If you like it a little more creative, our boxes in the shape of small handbags or our pillow boxes are particularly interesting for you.
Love box as gift packaging
Our love boxes are wonderfully suitable as stylish and creative packaging for presents of all kinds. Whether you want to give your loved one a birthday, Christmas or Valentine's Day gift, a love-themed gift box is sure to be a great choice. In a lovely love box, you can package both nice little things and thoughtful heartfelt wishes or very personal presents.
Box with love messages as a personal gift
If you want to give something very personal to a special person in your life, how about a special box with love messages? Simply choose a What I love about you box and fill it with little messages telling your favourite person what you love about him or her. Of course, these messages can also be combined with small, but nice prizes that will put a smile on the other person's face.
Personalised boxes for more individuality
We at Buntbox offer you a special option for personalising your box: You can print your chosen love box with your own picture or simply have an existing motif personalised. This way, you get a gift box that is absolutely unique and makes it especially clear to the person you are giving the gift to how much you love them.
Box for favourite keepsakes
Our beautiful boxes are an excellent choice for presents and are much more practical than wrapping paper or gifts. This is because our Buntboxes can still be used after they have been used for gift wrapping. The practical boxes are wonderful for collecting and storing small mementos, cards or decorative items. Love letters, birthday cards or mementos of the time we spent together, such as cinema tickets, concert tickets or photos, look particularly good in an I love you box.
High quality for outstanding durability
Our Buntboxes will impress you and your loved ones not only with their beautiful appearance and great personalisation options, but also with their outstanding quality. The high-quality materials and careful workmanship ensure that the box is not only a beautiful packaging for your gift, but also lasts a long time and can be used as a storage box.