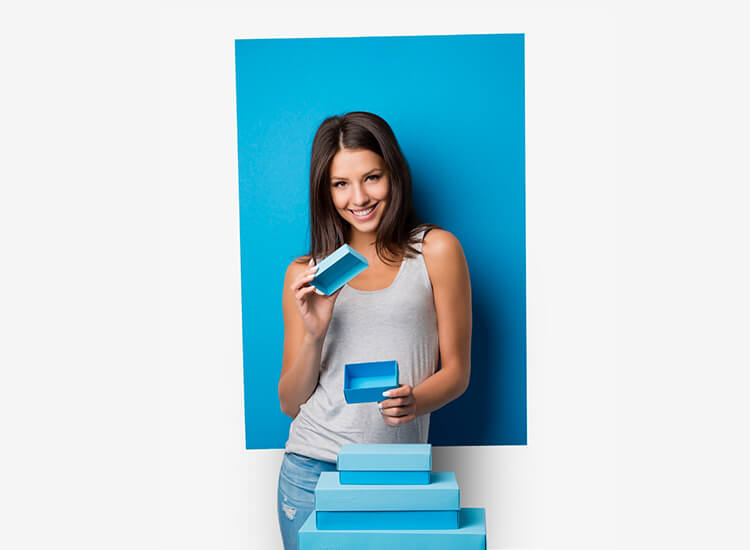 Customization of gift boxes
Our Buntbox team is also more than happy to assist you with any kind of personalizations. We will inform you about all the customization options available and offer you many ideas for your next gift box. Take a look at our range online and get inspired. Do you have any questions? Feel free to contact us, we will be happy to help you out.
The premium Buntbox product range of flower motif gift boxes
First impressions count. Perfectionism in gift giving means presenting a welcome gift in packaging that fascinates both visually and haptically, like a real eye-catcher. Whether as a casket, a beautiful gift box in a perfectly shaped heart shape, whether rectangular, oval or round - a Buntbox flower motif gift box decorated with romantic flower motifs or trendy individual plants is always the right choice. Do you prefer a gift box made of cardboard covered with silk fabric, or do you prefer glossy paper with a flower or plant print? Buntbox has an almost endless selection of diverse gift boxes with admirable flower and plant motifs that will inspire you! Whether simple, minimalist, unusual or in a classically elegant floral design - there are no limits to the great design suggestions! Would you like a very special gift packaging that comes from the heart and paint unique flower motifs yourself in creative handwork? Buntbox makes it possible.
Modern Buntbox gift boxes in plant design: Your gift box highlight for loving gifts
Gift boxes with plant motifs from Buntbox are the ideal solution for gifts of all kinds. Whether books, sweet gifts, an enchanting lucky charm, a longed-for collector's item or unique piece of jewellery - with a flower or plant motif gift box you always make a good choice. The gift boxes with plant motifs are available in different dimensions, so that you can also find a suitable, florally decorated box for larger gifts such as items of clothing or electronic devices. Buntbox gift boxes with floral and plant motifs come in different styles: You can choose between a romantic, imaginative, vintage, pragmatic, classically elegant or rustic motif in all imaginable colour variations! Use the possibility to stylise your gift box harmoniously with beautiful silk ribbons, cords or pretty pendants to match the floral motif! In addition to these effective extras, you can personalise the gift box, add your signature or company logo - everything that refines the gift box and makes it representative is possible with Buntbox!
When originality is called for: painting floral motifs on a Buntbox gift box
Whether for a wedding anniversary, for moving into a new home, for a birthday, as a way of making up for lost time or as a small farewell memento - you can choose between emotional or understated simplicity, but one thing is certain: with a beautiful gift box in a floral motif, you create positive moods and the surprise effect always succeeds! You have great ideas and want to get creative? Choose a matching Buntbox gift box on which you can paint floral motifs with imagination and dedication and immortalise your own creations. This way, the recipient will receive two very special gifts that signal a special moment. The decorative look of a self-painted gift box, together with the lovingly chosen gift, is sure to go down very well with the gift recipient and make this moment an unforgettably beautiful event!
Give plants and flowers with an exclusive flower motif gift box from Buntbox
Your friends or acquaintances have green fingers and you would like to surprise them with a beautiful houseplant or exquisite garden flowers? Buntbox has the perfect solution for you with its many charming gift boxes! You can present your original gift in the stylish, florally decorated packaging that every plant deserves! Be inspired by the Buntbox range of gift boxes for plants and flowers available for immediate delivery or get creative yourself! You can paint your own imaginative floral motifs on your Buntbox gift box for plants, in complete harmony with the natural gift of flowers, and thus give your gift box a completely individual, admirable look!